I was at a meeting of my quilt guild, the Connecticut Piecemakers, yesterday and during "show and tell" finally had two completed quilt projects to show the group.  It seems that I am usally not finished with a project or am just finished and have given it away when those guild meetings roll around.  Anyway, this time I had two projects that I am keeping for myself to show.  One was a paperpieced teddy bear (I'll have to edit this and add the photo later) that will hang in my newly-painted green powder room.  The second was a valentine's table topper that I actually finished last year and was just getting back out to decorate my dining room table for Valentine's Day.
What really inspired me was the woman who got up with about five finished objects and said that she had decided to dedicate January to finishing some UFOs and had this to show for her effort.  So, I decided to declare this month "Finish It! February".  I have so many nearly finished objects, quilting and knitting, that I plan on having a quite productive February.
Among my plans include
1) finishing the antique reproduction fabric sampler quilt that I have been working on and using as class samples as I taught 4 sampler classes during the last two years (here's the progress as of 1/22/09)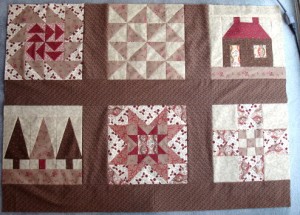 On this project, the third row (not pictured here) had a really ugly block that I decided not to use.  So the finishing work includes assembling a log cabin block from left over fabrics, adding it to the third row and the third row to the top above, putting on borders, and then quilting by machine.  When it's done, I'm keeping this one (I think).
2) finishing the chenille afghan (knitted project that has a crocheted assembly and edging)
3) finishing the blocks for the Thimbleberries fabric sampler (5 more to go), then assembling into a top with sashing and borders.  I think that I will most likely do the quilting in March, but I'm including this project in Finish It! February because the goal is to have the top finished.  (I'll photo this one later too)
4) finish the Tofutsies scarf and Tofutsies sock # 1.   Note that you need two socks to make a pair, but the goal is to at least finish sock # 1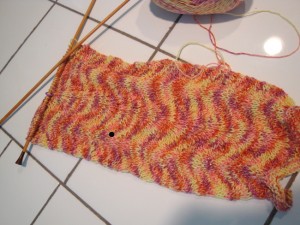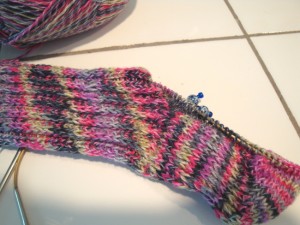 So, lots of great plans for February.  But it's already off to a great start.  Last Saturday I finished the baby afghan I had been crocheting for my friend's baby.   It was wrapped and given at the shower last night.  Alas, I forgot to photograph it, but it still counts as the first item completed in Finish It! February.   And, of course, I'm already off to working on another alliterative slogan for motivation in March (Make It! March, maybe?).