To celebrate all the veterans of foreign wars – to all the saints who from their labors rest.
Happy Memorial Day 2010.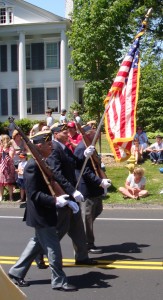 Our town has a Memorial Day parade.  The first part of the parade is loaded with the veterans, some of them still able to proudly march down the street, others being proudly driven in convertibles, pickup trucks, you name it.
It was a beautiful, sunny day — perfect weather for parades and picnics.  The navy jet swooped the parade route 4 times.  With USA painted on the underside of the wings of the white plane and the screaming of the hornet's engines from about 2000 feet overhead, it was quite a site.
The back half of the parade must have contained every kid in town (just kidding)!  But it felt like it.  From girl scouts, boy scouts, and brownies to every little league team that exists, they all paraded by.  The local paper's website says that thousands lined the streets to watch the parade.  With all the kids, coaches, Moms and Dads, I think the parade contained thousands also.