The outer rain bands of Hurricane Irene are here.  Our weather station in the garden is reporting a rain rate of 1.55 inches per hour.  It also presents a text interpretation of the current weather and now has the text at the bottom of the display saying "It is raining cats and dogs".  Funny, but unfortunately, it is predicted that we may get up to 10 inches of cats and dogs during the course of the hurricane.  The storm itself is south of here but is predicted to make landfall on Connecticut between Greenwich and Stamford.  Our home is DIRECTLY in the path of the eye of the storm.  For some weird reason, I have never wanted to be in the eye of a hurricane.  Storm winds are supposed to start picking up shortly after midnight.  I predict not much sleep tonight!
So, while we are listening to TV track the storm — currently CL&P is in the process of advance covering of a certain part of their body – I'm going to do a blog update with vacation and yard photos while there is still power.
To start with — a photo of Mini-Phinni this year's youngest frog.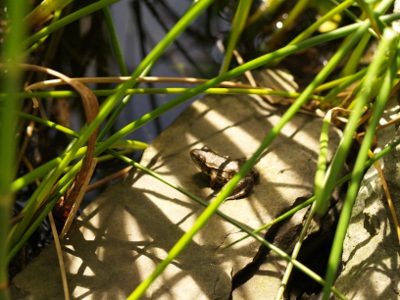 The view from our room at Malbone House in Newport, RI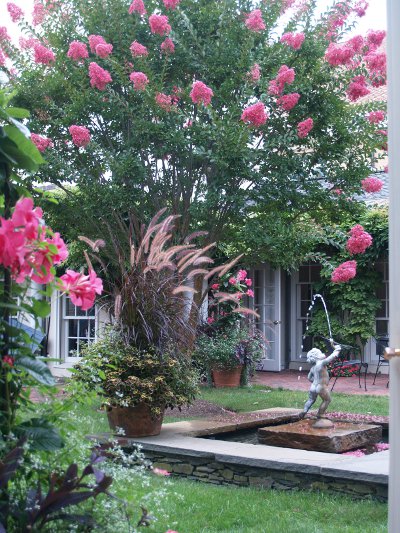 We went for a sail in Newport harbor.  Laying down on the deck looking up at the rigging of our boat as the sails went up: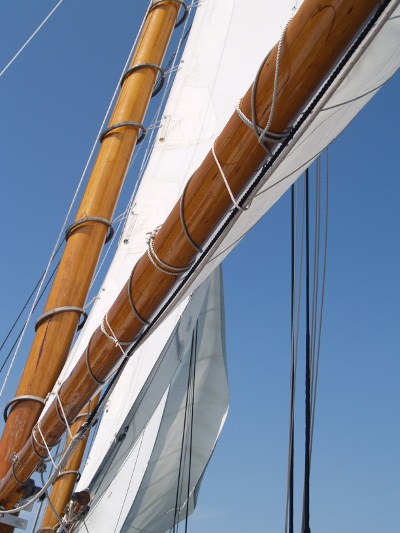 And while we were out in the harbor we saw a sailing sight that many would have been envious of.   Two J Class Yachts were racing – perhaps not an "official" race – but two sailboats on the same tack are racing.  And these guys were racing!  The boat on the left, J5 (Ranger), was built in 2004 and is a replica of a 1937 America's Cup defender.  An interesting item about the original boat — it had bakelite deck inserts.  The boat on the right, JK7 (Velsheda) was refitted in 1997 with a large carbon fiber mast.  Each boat requires a crew of 16 to sail, 30 for racing.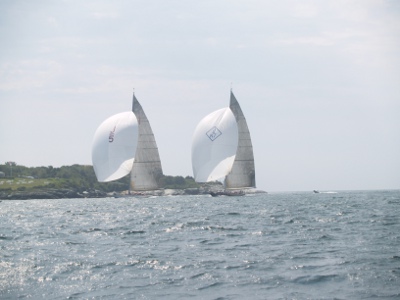 We continued to sail straight at their path and tacked to get out of the way just after the photo below was taken.  Note that the main sails look dirty — but it is because they are made of carbon fiber.  They are sailing downwind — spinnakers filled to the max.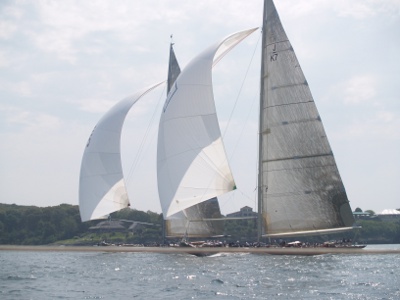 Unfortunately, the brief two-day birthday trip came to an end and we drove back to Connecticut.  It was time to make preparations for the hurricane.  We stopped halfway home to try to find some flashlight batteries as the word was there was nothing to be had in our town.  Turns out, there was also almost nothing to be had in Middletown either.
So, the work of moving lawn and deck furniture, plants, flags, etc began on Friday and continued into Saturday.  I did take time out to visit the pond and found Phyllis sitting on her favorite rock.   I hadn't seen her in a long time.  I believe I saw her smile and think she was happy to see me.  She, at least was totally unafraid as I took her closeup.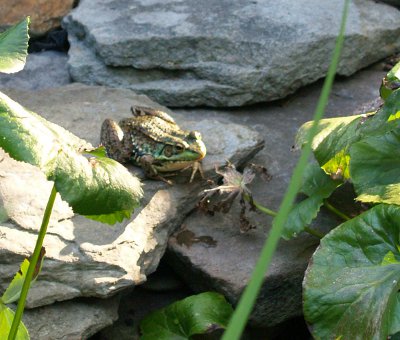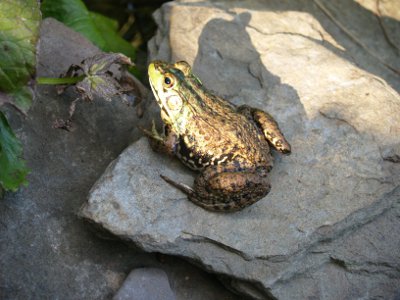 And the peach lily was still open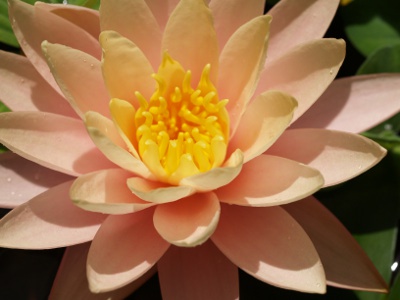 And everything outside has been moved in.  The title of this photo is "fake frogs in foyer"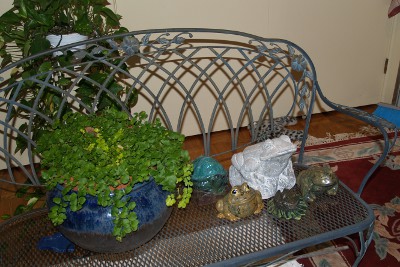 Look at the deck!  Nothing there.  From the looks of the outside of the house and yard, it looks like we have moved out.  Guess we have, moved in, that is.