You know your deck needs repair when a Carolina wren pair build a nest and raise five babies in one of the support beams.   About a month ago, I was astounded to find a male Carolina wren trying to build a nest in a support beam of our upper deck.  He stuffed the cavity in the beam full of "nest" and then sat on a plant post or my flag pole and sang and sang his song trying to attract a mate.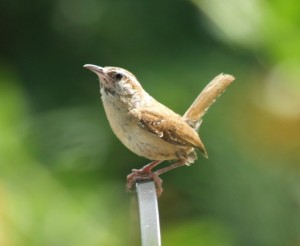 The next thing I knew, I saw him bringing food to another wren that was sitting on the nest.  Then a few days later, both adult wrens were busily bringing worms, bugs, moths etc. to the cavity in the beam.   And from that cavity you could hear the high-pitched chirping of what turned out to be five baby Carolina wrens.   The adults' songs were beautiful and became more and more loud as they brought food, but sat away from the nest and sang before they brought the food to the nest.  In the photos below you can see an adult with what looks like a spider and the babies being fed.  The older and bigger the babies became, the longer the adults sang before they brought the food.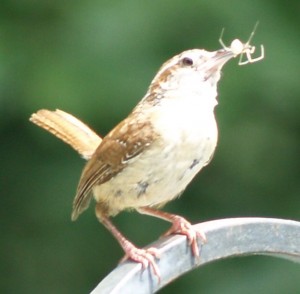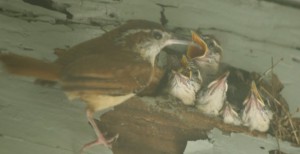 On the day I took all these photos (July 17) the adults really seemed to be trying to coax the babies off the nest as they brought food but sat away and sang and chirped a very long time before actually taking the offering up to the nest.  I was up early and in my office and didn't check on the nest until 10 am today — and all the baby birds have fledged.  And I missed it!    The nest was only a few feet outside my patio door and I'm not sure the adults would have fledged the babies if I had been there so close, so perhaps it was a good thing I was down in my office below.  But now the deck is so quiet — no activity and no wren-song right outside my door.