It is said that you always remember fondly your first love.  Well, my first crafting love was Needlepoint.  It all started on my very first computer programmer job.  My cubicle mate was a great gal — Pam — and she loved to needlepoint.  Me, just fresh out of college and unused to having any spare time, did not have any handcrafting hobbies.  And this is actually a bit strange since my Mom was an avid crocheter and also did hand embroidery.  Anyway, ladies in our department always took the same lunch hour and on one of these, Pam and I ate quickly then walked across the neighboring mall property to the far side where existed a needlepoint shop.  And, my love of handcrafting got its start.
I believe my first completed piece was a turtle — and I still have it.  I also still have the memories of working with the scratchy wool yarn.  Fast forward to today — and, my oh my, it is not your grandmother's needlepoint anymore.  I took needlepoint sampler class in 2007 and learned that stitches were now different and thread choices were out of this world.  My sampler was done in a set of merino wool fibers.  And my current project contains shiny metallics, silk, and all sorts of other wonderful stitching goodies!
I'm becoming reacquainted with my first love — and we're having a good time together.
Mr, Cardinal, my current project: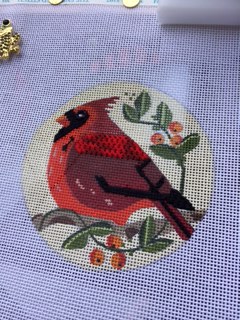 And here's my reunion piece, the sampler, almost done: