Ah, the last day of November, my parents wedding anniversary.  I am assuming they are celebrating in some fashion up in heaven.  Happy Anniversary Mom and Dad!  I miss you both.
And, back here on earth, Thanksgiving has come and gone, not without a bit of adventure however.  We didn't have guests scheduled this year as my kitchen was supposed to be under construction.  Construction being somewhat delayed, we could still cook there so hubby and I got up on Thanksgiving morning, not too early, and began the prep of the turkey and the stuffing ingredients.  Somehow, (how?, perhaps we'll never know) hubby managed to drop a big glass mixing bowl and break it.  I was turning away from what I was doing to ask him what the <>?L:!!  was going on and saw blood dripping on the white tile floor.  He didn't know at first he had cut himself.  So, turkey back in the fridge and us off to the Emergency Room for 9 stitches in his index finger.  He COULD have just said he didn't want to help this year — such drastic measures weren't really necessary!   At least it wasn't the new hardwood floor (yet to be installed) that he was dripping blood all over just as it wasn't the new ceiling and lighting rail system (yet to be installed) that I smoked the night before when I burnt the cranberries.   Anyone thinking what I am — that maybe we weren't SUPPOSED to be cooking this year?
And the Christmas cactus is it's usually impatient self and couldn't wait 'til Christmas for full bloom . .
The hibiscus is trying not to be outdone. I didn't think it would live inside over winter and said so to hubby — in the plant's presence the other day. Something like — "this plant is not looking too good, I don't think I'm going to be able to keep it". The next day he (all my plants are he) opened a beautiful bloom and two days later, this one. Guess I was wrong and was being told so in the only way plants can talk — with outstanding beauty!
Oh yeah, it's advent now.  Not much Christmas decorating has been done here — not much will be possible.  But I did purchase the advent candles.  I imagine every picture I take will have construction items in the background.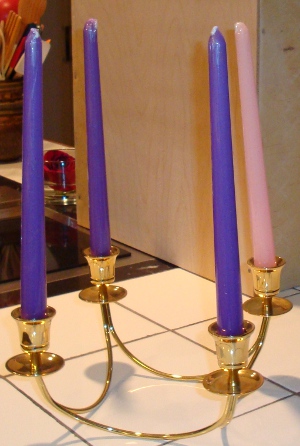 If I turn my back and concentrate on my computer, I can almost pretend that my sitting room doesn't actually look like this (photo on left).  But this beauty (photo on right) will soon be in my kitchen — with some handles on it so I can get the drawers open.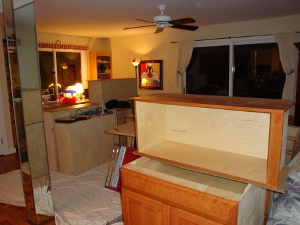 And, last but not least, we have had two visitors for about a week that are to go home tomorrow.  They have been real quiet and don't eat much.  Good house guests.