Be it ever so humble, there's no place like home  —   —   —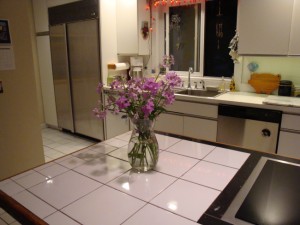 Back at the end of April, I set an arbitrary deadline to be home for Memorial Day weekend, and I made it.
I said good-bye to Des Moines, Iowa, but just for a short time —   —   —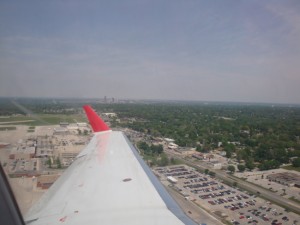 Sunday, the first day I was here, was not great weather wise, but neither hubby nor I cared.  We spent the day relaxing, watching the rain, and went out for dinner at Southwest Cafe, one of our favorite hangouts.  I also picked some wildflowers from my garden —   —   —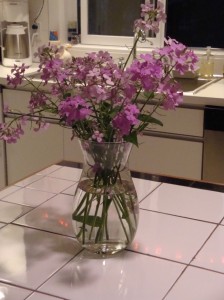 And on Memorial Day, hubby and I went to the parade here in Ridgefield.  Lots of armed service veterans at the front of the parade followed by the town firetrucks.   Some wisdom from the back of the truck —   —   —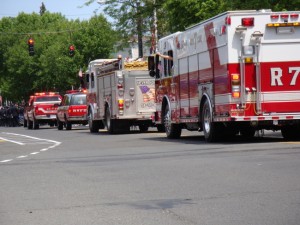 Lots of flags too — waving everywhere — every parade unit — half the people on the street — almost all of the kids —   —   —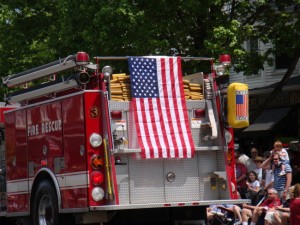 And, the last thing packed into my bag before I left was a crocheted gift from my sister's friend  —  some kitchen towel wisdom — and probably the only reason that I have been able to hold it together the past 9 1/2 weeks — faith.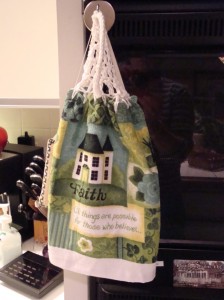 "All things are possible for those who believe".    Without the faith and prayers of my hubby, friends, church friends, and the church prayer team, I don't know how I would have come through the last few weeks.  And the prayers continue . . . . . . .