Hubby and I spent some time sitting out by the pond yesterday and watching the male wren work.  He was tireless and his routine was unvarying.  He'd be gone from the nest area — then we'd see him come back and fly straight to the birdhouse and hop inside — then out he'd come and he'd hop onto the same tree branch and sing his delightful song.  Off he'd go in search of more bugs for his mate who was apparently in the birdhouse sitting on the eggs.  And he did this continuously the entire time I sat outside (which was over 2 hours) and was still working when the mosquitoes drove me inside.
Well — sometime, I would say this morning — something changed.  At about 9 am — I heard the male sitting in the tree just singing that same song over and over and over and over and, well you get it, over again!!!!!   I thought something was wrong and went downstairs and eventually outside to watch and see what was up.  Little did I know that this was the "THEY'RE HATCHING!!!!!" declaration.  I heard a second, different wren voice also and by the time I got out to watch, both the male and the female were flying to and from the birdhouse.  Not as much singing now, though there's still some, as there are mouths to feed.
In the photos below, the female wren can be seen peeking out of the box before she leaves it to go search for bugs.  She seems very careful.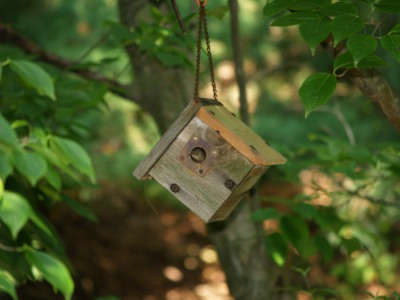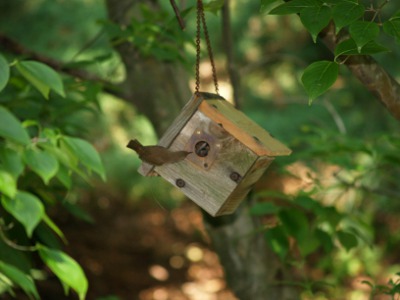 Yes, it's a beautiful time of year.  I managed to go outside and in the space of about 30 minutes, take 91 photos worth keeping.  Here are the Stella de Oro day-lilies from beside the pond.  Could have stayed out there all day!